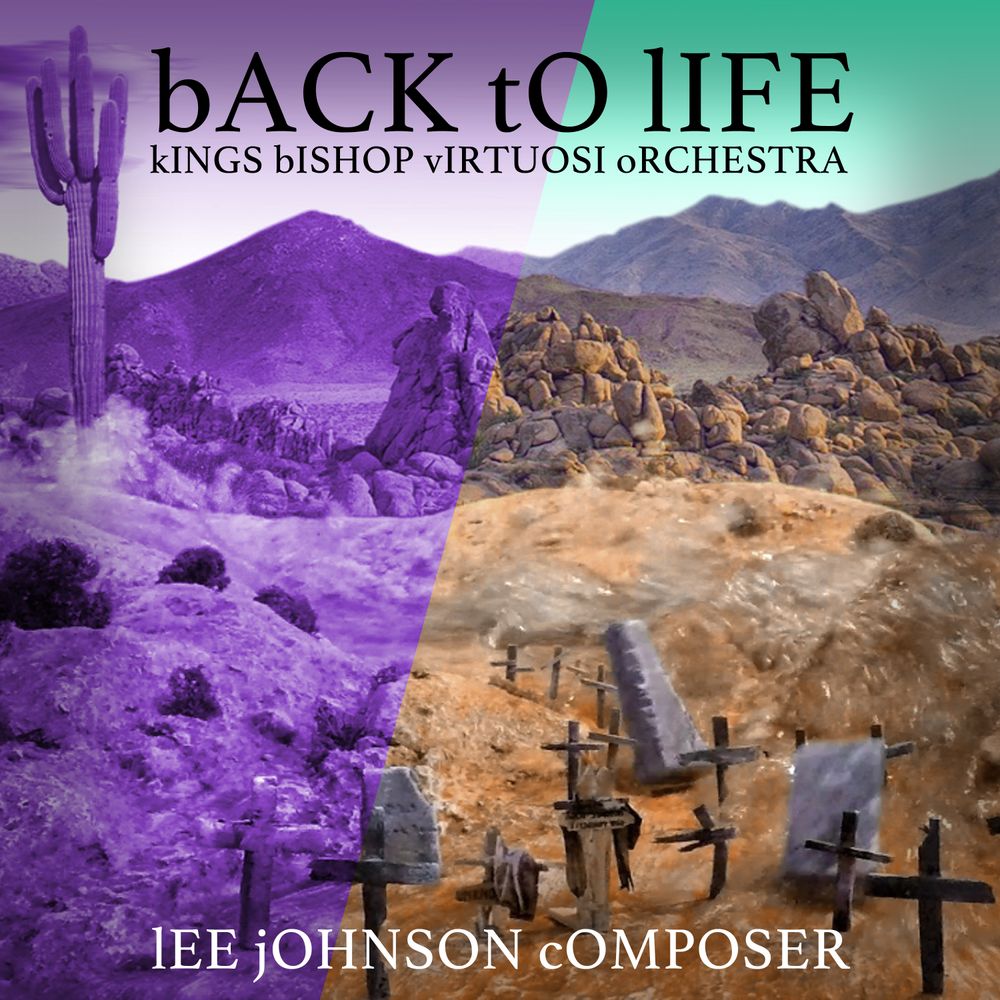 Back To Life
Coming August 7th, 2020
WHAT
Kings Bishop Productions proudly presents its newest release, Back To Life.
WHEN
Back To Life will be released on August 7th, 2020 on all digital download and streaming sites as well as on the Kings Bishop Productions YouTube Channel. 
WHO
Visual artist, Clay Powers and composer, Lee Johnson - the creators of Sandfloor Cathedral, Every Matter Under Heaven, Lunch In America, Wordsmith, DEMOPERA, and the Emmy nominated Colours of a Soul  have worked together since 1993. Their award winning works have been released by: Warner Bros., Platinum Entertainment, Intersound International, Pamplin Music, OMI Records, Vision Video, Jammates Records, CC'nC Records, Deutsche Austroaphon, Compendia Music, and many others. Their Symphonic Films have been broadcast on Direct TV's Hope Channel, Georgia Public Broadcasting, Oklahoma Public Television, Germany's Bayerischer Rundfunk, and Polish Public Television.
TELL ME MORE
Words from visual image maker, Clay Powers
Back To Life is a series of eight short videos which tell a story of "time and change" set in the American West.  Originally intended as looping ambient videos, they are on the surface explorations of landscape and color harmony, natural processes, and life and death.  At the heart of the imagery is the idea that our study of the past can, if only in a symbolic sense, bring the past Back to Life.  In one interpretation they are paintings in motion.  The fact that they are naturalistic images, generally seen from a single vantage point, enables them to perform the role of any classical landscape painting, as interpretation can be as surficial, or as deep as the viewer wishes.  Some are intended as visual puns, some as allegories of ideas more profound.  Hopefully with study and repeated encounter the viewer may be drawn to make their own conclusion as to the artist's intent, serious or not.
Words from composer, Lee Johnson
The music of Back To Life is as close to an album as anything that I have had the chance to do since my first solo release back in the early 90's. I wanted to be musically free from the limitations that might be attached to any kind of a classical genre since Clay and I had decided early on to pursue collaborative techniques that we had not worked with before. The instrumentation of Back To Life changes vastly from piece to piece as well as any and all things related to aesthetic and style. Though the music is mostly symphonic and cinematic, there is a palpably intense and intimate proximity to the physical presence of the musicians that can be felt throughout. I am convinced that the impact of the "paintings in motion" and the immersive non-genre specific music will make this a richly transformative experience of "time and change".
CREDITS
Clay Powers - visual imagery
Lee Johnson - music
Pat Patten - audio mastering
Clay Powers - album cover art
Lee Johnson - audio mixing
Coral Douglas - publicity and social media
Kings Bishop Productions Channel
https://www.youtube.com/channel/UCfneDsBFCvtyc8CSOa85qag?view_as=subscriber
Lee Johnson Music Channel
https://www.youtube.com/channel/UCsHvTgu9VGHsT-VCX2Il5cQ
Lee Johnson Music website